APPLY TO THE MENTORSHIP PROGRAM IN THREE EASY STEPS!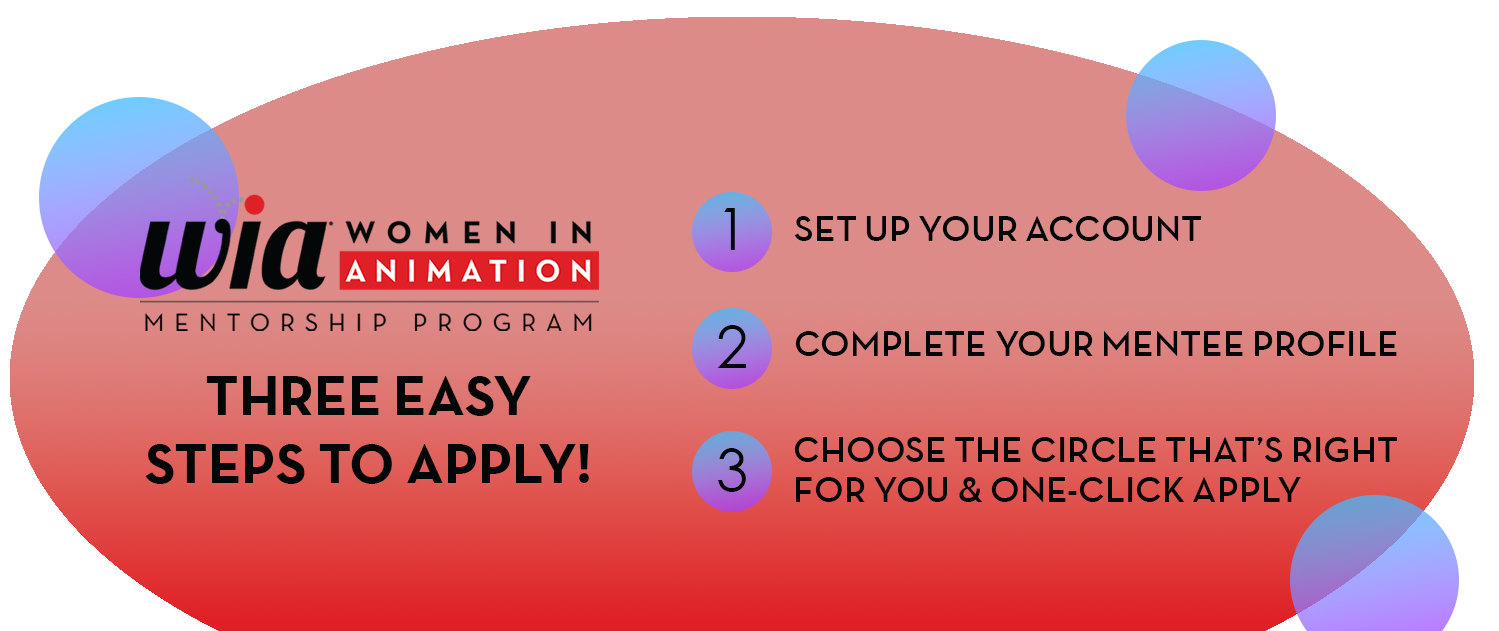 WIA Mentorship Application Process
To create your Mentorship Account (start here):  enter an active email address. You'll receive a verification email to activate your new Mentorship Program account (if you do not receive that activation email within 20 minutes (check your SPAM folder too) please email [email protected].
Once your account is activated you can complete your profile.  You may edit your account information and settings at any time by going to the account page in the system.
Note on eligibility:
Any ACTIVE member of Women in Animation who identifies as female, transgender or nonbinary is able to apply, as long they have not participated in a WIA Mentorship Circle for 2 years.
Final year students ONLY are welcome to apply.
BIPOC applicants are strongly encouraged to apply.
Please contact [email protected] with any questions.
Your profile is used as your application when applying to a Mentorship Circle, so please make sure to be very thorough and complete all fields in the profile. Incomplete applications will not be added to the applicant pool.
If you leave any blank fields in your profile the system will not allow you to apply for a circle. You can refer to the right hand column of the application page, which will alert you to the fields missing information.
All of the information you enter into your profile must be accurate and current.  You do not have to complete your profile all in one session, anything you enter can be saved and completed and updated the next time you login.
Head to the program page , find the circle for you and click 'apply'.  That's it!  Your application has been submitted for review.
All applicants will be notified by WIA whether or not they are accepted within 2-4 weeks of close of applications. If you are not accepted into the program you are eligible to apply next round.
Note: Circles will close as they reach applicant capacity. We recommend setting up your mentorship account in advance to increase your chances of applying the circle of your choice.