Fri May 15  |  5pm PDT  |  Live Zoom Event
WHAT:
WIA PRESENTS A VIRTUAL Q+A:  CREATING YOUR CAREER IN PRODUCTION DESIGN 
with Production Designer KENDAL CRONKHITE SHAINDLIN and Producer GINA SHAY of TROLLS WORLD TOUR
Trolls World Tour Production Designer Kendal Cronkhite will discuss her career path over more than 25 years in the animation industry. She will share insights and reflections on her journey – from the ups and downs that can challenge your artistic resilience along the way, to successfully transitioning into creative leadership roles.
Moderated by Trolls World Tour Producer Gina Shay, the conversation will culminate in how their unique creative collaboration and a culture of open artistic community empowered the crew to bring the unique world of the Trolls franchise to life on screen and beyond.
We would love to hear from you!  Please submit your questions for our panelists ahead of time by clicking the button below:
Date: Friday, May 15th, 2020
Time: 5 – 6 PM PDT
Zoom: Invitation to follow
This LIVE event is open to WIA Members.
PLEASE NOTE:
This is a ticketed event requiring an RSVP.  ONLY THOSE WHO RSVP will be sent the meeting link and password to view. Please register at the top of this page if you will attend – space is limited!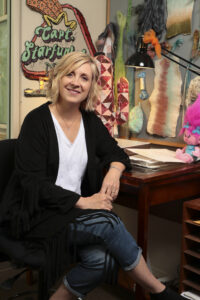 Kendal Cronkhite Shaindlin, Production Designer
Prior to her designing the world where Poppy confronts the Bergen's in Trolls, she spent her time with the Zoosters in Madagascar, Madagascar: Escape 2 Africa and Madagascar: Europe's Most Wanted. In her role as production designer, Cronkhite is responsible for designing the look of the film by managing the art and character departments and communicating with the other departments to assure the quality and continuity of the film. Cronkhite has worked in VR as the production designer on Oculus Story Studio's Henry and Fable Studios' Wolves in the Walls. Cronkhite joined DreamWorks as an art director in its pioneering days and worked on the studio's first computer animated film ANTZ. Prior to joining the company, Cronkhite was the assistant art director on Tim Burton's The Nightmare Before Christmas and art director on Disney's James and the Giant Peach, and worked as an editorial illustrator in Toronto and New York. Cronkhite received her bachelor of fine arts from the Art Center College of Design with a major in illustration.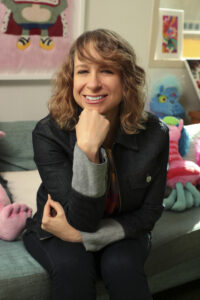 Gina Shay, p.g.a.
Gina Shay has over 25 years of experience producing animated films, which includes a full decade of films and specials for DreamWorks Animation. In addition to developing and producing the upcoming feature film Trolls World Tour, she produced the box-office hit Shrek Forever After, the fourth installment of the wildly successful Shrek franchise. Her list of shorts includes Shrek the Halls, Shrek's first-ever original animated holiday special, and aired to an enthusiastic response in November of 2007 on ABC. Before joining DreamWorks Animation, Shay spent another decade producing for Paramount Pictures serving as executive producer of The Spongebob Squarepants Movie. She was also the co-producer on Paramount Pictures' and Nickelodeons Movies' first CG Oscar ® -nominated animated feature film, Jimmy Neutron: Boy Genius. Prior to that she was the line producer on the highly acclaimed, award-winning CG animated feature film South Park: Bigger, Longer & Uncut, where her responsibilities included putting together a digital animation studio in just two months' time in order to accommodate the feature's demanding production schedule. Shay began her professional career in filmmaking as a production manager on Ralph Bakshis' and Paramount Pictures' feature film Cool World. She then moved on to Disney to serve as associate producer on two films: Pooh's Grand Adventure: The Search for Christopher Robin and Pocahontas: Journey to a New World. She also worked on the virtual attraction The Spiderman Ride for Universal Studios Theme Park. Shay attended Pratt Institute of Art in Brooklyn, New York.