SPOTLIGHT STORIES: Class of 2020 Showcase Winners
Interview conducted by Tracey Miller-Zarneke
Women In Animation Class of 2020 Showcase is a special online program celebrating the thesis/final films created by students who graduated in 2020 at both undergraduate and graduate levels. The Class of 2020 has been heavily affected by the current COVID-19 pandemic: their traditional year-end festivities including their in-person commencement ceremonies, screening celebrations, and career fairs have all been canceled.
WIA wanted to virtually recreate the opportunities that are missing for the talent and for the industry during this time, so to that end, this Showcase serves as a platform for graduation films to be seen by animation powerhouses and recruiters, hiring managers, agents and studio executives, making important connections for promising new talent.
Over 400 submissions were collected and curated by WIA Chair of Education Hsiang Chin Moe for industry viewing, and an esteemed panel of industry experts also judged the films. The top three ranking film projects were: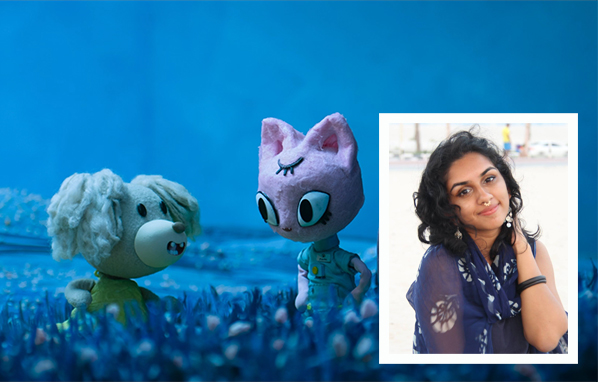 MEOW OR NEVER
by Neeraja Raj
In a madcap musical, a catstronaut travels the galaxy looking for the meaning of life – only to encounter an overeager space pup who causes trouble at every turn! The duo goes on an unexpected journey together and she discovers a lot more than she expected to find.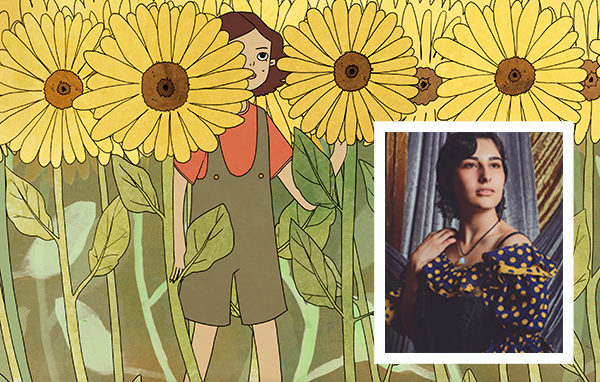 CIERVO
by Pilar Garcia-Fernandezsesma
An emotionally haunting and visually beautiful experience, Ciervo tells the story of a young girl who holds violence, submission, and independence in an uneasy balance as one morphs into the other.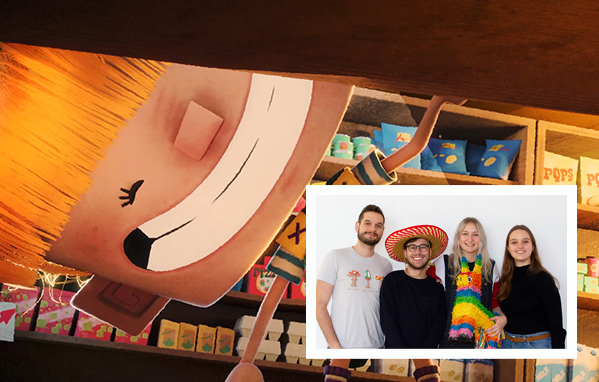 LA VIDA DE UNA PIÑATA
by Elena Heller, Marina Kunz, Kai Müri and Raphael Pfyffer
A piñata experiences the same fateful day over and over again, on which it is bought by a girl and finds death at her garden party. Shocked, the piñata tries to break out of this eternal cycle.
The winning filmmakers were gracious enough to take time to share some insight on their creative experiences with these projects.
What was your greatest challenge in making your film?
Pilar: One of the biggest challenges for me was figuring out the musical elements. While I'm not a musician in any professional sense, I had a very particular feeling that I was going for. I did all the 'Zapateo,' which is the rhythmic flamenco stomping, and the castanets and flute myself. It took a lot of trial and error to get those pieces to sound unified in a way that felt closest to what I had imagined in my head. I had also originally planned on commissioning a musician to make the flamenco guitar music, but with the pandemic hitting, it threw a wrench in that plan so I had to search pretty extensively online for a song that was free to use and had the right sound and tone.
Neeraja: Meow or Never was an ambitious whimsical comedy musical stop-motion animation film idea – and I really wanted to do it justice. My greatest challenge was sticking to a schedule that was suited for the scale of the film, and to not be deterred by any obstacles or unexpected delays (like a light on set bursting, armature breaking, etc.) that came our way. It also depended on me being able to fulfill my directorial duties; in the sense that my brain would have to switch to several different aspects of filmmaking several times a day, depending on who I was in discussion with. For example, a typical day would go like this: I'd see my lead model-maker in the morning to finalize the puppets' ears' design, then my editor after to see his latest revisions to the animatic, then my cinematographer to discuss what shot we were going to set up that day, so I could brief the animator on set, who would continue working during the time I couldn't animate myself. As a first-time director, it was definitely a learning curve but I got acclimated towards it soon enough!
Elena: The greatest challenge was learning new skills and at the same time already using them for production. For example, I taught myself rigging in blender and basically the first rigs I've done were the ones used in our film. We didn't have a lot of time to practice or experiment.
Marina: To know when to move on. It was hard to, at some point, just decide to go with what you have because there's simply no time left.
Kai: Dealing with the most important resource in a student project – time. How much time can we still invest in this step of the process so that we have enough time for the next one? Yep, we have learned a lot.
Raphael: Finding a good ending for the story was quite a challenge. We tried a lot of things and changed it multiple times.
What was your greatest breakthrough or celebratory moment on the project, or in school?
Pilar: Strangely enough, when I had to go back home after my university shut down, I was still looking for a missing musical element and had been trying a couple of different ideas. I happened to have my old flute from my middle school band lying around and I tried a couple of different notes and elements to see how they sounded. It ended up being exactly the kind of sound I had felt was missing and really solidified the musical aspects for me.
Neeraja: On February 26, 2020, we had our big graduation showcase at the Picturehouse Central in London where we screened our films to a massive audience. I was a ball of nerves all throughout it, anxiously waiting until the finale when it came for my film to be screened — it hadn't quite hit me yet what I and my team had created, over the course of 14 long months. Personally, my breakthrough moment was getting to see the reaction to Meow or Never — the hearty laughs, the 'awws', the gasps, and even the snort at the 'meow' sound that plays over the title! I felt immense happiness as a filmmaker that I was able to move so many humans like that, let alone one. I enjoyed feeding off the audience's energy and it reminded me of why I tell stories in the first place.
Team Piñata: It was right before our graduation presentation. We gathered everything we did during the nine months of production and we were able for the first time to take a step back and look at what we achieved in such a short time.
I was delighted from beginning to end–delighted by the characters, charmed by the sets. I come from stop motion so I could see the labor of love in every piece that you did. I love your positive message in the story as well: right now, having the positivity and the beauty of connection was really inspiring to me.

Trisha Gum, Showcase Judge and Filmmaker at Netflix, on Meow or Never
How did your production go, compared to how you expected it to go?
Pilar: I was really worried in the beginning about being able to finish my film. It's quite long and I was really determined to keep everything I had planned on having in the film because I felt that each scene had importance to the story. I paced myself surprisingly well, especially in the beginning of the school year, and it really paid off in Spring. By the time we were forced to leave the campus because of Covid-19 in March, I had finished all the major animation and was mostly doing minor edits and sound design so my transition to working remotely went a little more smoothly than some of my classmates. I did have to end up switching sound programs completely which meant I couldn't really do any timing changes or changes to the sound I had done so far, which made it difficult to push through for a while. Ultimately I ended up with something I'm happy with, and I didn't have to cut any scenes out, which I'm very grateful for.
Neeraja: You know how sometimes when you set out for a creative venture, the end goal isn't quite like how you imagined it in your head? Surprisingly enough, though this is my first major film, I can honestly say that Meow or Never went above and beyond my expectations. This is mostly because of my lovely team. The film couldn't have come together so cohesively without each moving part of the departments working collectively and coherently — down from the retro pixel-graphics of Pucha's spaceship to the plinky-plonky sound effects of the alien birds. As the director, I got to unify everyone onto a specific path to fulfill the vision of the story. Personally, I'm very grateful to have been surrounded by such talents — and so are catstronaut Pucha and puppy Blip!
Team Piñata: The sudden Covid-19 pandemic presented us with a major challenge. We were pleased with how quickly and efficiently we were able to reschedule and produce the film despite the pandemic. It was not easy, but easier than we thought in such a great team.
What did completing your film project teach you about yourself?
Pilar: I learned a lot about my own process and timing, and what kind of environment I work best in. I also really learned to appreciate many kinds of different feedback and how useful it can be, but also what suggestions to take or ignore based on your own judgement as well.
Neeraja: Meow or Never raised a whole lot of eyebrows when it was first pitched, but in its completion, it proved its weirdness and absurd humor in an authentic way. This was a challenge in the initial stages of making this film, convincing others that I knew what I was doing. Despite that, I pushed on. I learned to believe in myself. I learned that it's okay that not everyone will understand you, or like you, or your stories. C'est la vie! Another main takeaway is how I toed the thin line between being a good friend as well as a good director. I learned how to consolidate the views of a very diverse set of people with different opinions to see eye-to-eye on the film we set out to create. By leading productive dissension in a way that is good for teambuilding, I managed to make sure no one felt unheard. All this taught me that when it comes to storytelling, remaining true to myself and the story is always the right course.
Elena: It taught me that it is important to step out of my comfort zone and challenge myself, and that that can be an exciting process. I've learned so many new skills in this project by simply taking responsibilities for areas I wouldn't have wanted to work on, but in a group of four, everyone has to do things they are maybe not practiced in.
Marina: That I can learn and do anything, if need be. In a group of four, there is always a shortage of people in one or the other part of production, but when push comes to shove, it's so important that everyone tries to help with everything.
Kai: With constant communication and planning, even the greatest challenges can be mastered in a group project. I mean, two days before picture lock, we not only rewrote the entire end of the film but also animated and re-set-dressed it. Yes, the wires were running hot on discord to meet this deadline.
Raphael: To not be scared to step out of your comfort zone. New things like production steps, etc. can seem intimidating at first but, in the end, most of the time they turn out to be the most fun ones.
The way the filmmaker interpreted this darkness, it was so inventive and used all the skills of animation to make this really beautiful interpretation. It landed in such a beautiful, powerful way. It evokes so many emotions in me. Little details made me really connect to your lead character.

Karen Toliver, Showcase Judge and Executive Vice President, Creative at Sony Pictures Animation on Ciervo
What is the message or emotion you hope your film delivers to its audience?
Pilar: What I hope for the most with any of my work is that people empathize with and understand the character or emotional core. I hope my film can lead people to feel seen or start discussions about toxic cycles within our own nature as human beings and our relationship to each other and the natural world around us.
Neeraja: I strongly believe that all types of love need to be highlighted in the media. Familial love, self-love and also the love and bond between two friends which can withstand any force in the world. How many of us actually refer to our friendships in the same generous way that we discuss their romantic counterparts? Meow or Never explores the power of friendship — and that the meaning of one's life is what one makes it to be. Ultimately, it's whatever you hold value to, in the world. I want Meow or Never to remind its audiences that life can be fun, sad, silly and absolutely weird — and all of that could mean something or nothing at all — but what helps you navigate through it are the connections you make with others. 
Team Piñata: The same emotions that the cartoons of the 90s gave us when we grew up. Joy and laughter to watch a snappy and funny animation movie.
Where do you focus your energy now that this project is complete?
Pilar: I'm currently working on another short film mainly, and have a couple of side projects or freelancing gigs intermittently. Other than that, I've gotten back into some books and video games I wasn't able to read or play while working more intensely on my film Ciervo.
Neeraja: Currently, I am working on a couple of really fun projects, most of which I have to keep under wraps! One is an upcoming high-profile short film that I'm directing, with renowned production studio Nexus Studios in London. They recently signed me onto their roster as a Director and it's been a beautiful ride so far — I am honored to be working with such a talented group of people. On the sidelines, in the little spare time I get, I've also decided to invest time in my other love — making music! I've been collaborating with some producer folks and will hopefully get to reveal some singles very soon.
Elena: Right now I'm mainly focusing on completing my animation portfolio. I can definitely use some of the flow of our movie and the tricks I learned during the project to create some interesting shots.
Marina: I will focus on updating my show reel and earning money on the side.
Kai: On the one hand, I love the creative freedom to freely stylize movements in cartoon animation. That's why I want to expand my knowledge and skills in this area. On the other hand, I would like to deepen my knowledge in generative design (animation and art direction), because this will be a highly demanded skill in the future.
Raphael: I'm working on my modeling portfolio. Currently I'm doing an online class in sculpting portraits. It's really fun and a good exercise in anatomy and working from a reference.
What was outstanding immediately was the layouts: the team put together a world that I could walk into and I could understand and I could feel, but also the character animation is strong and unique. I was taken immediately!

Ronald Wimberly, Showcase Judge and Designer, Author and Writer on La Vida de Una Piñata
What advice do you have for other students who are working hard on their own projects?
Pilar: Pace yourself in a way that you don't feel burnt out by working a little bit each day or week. Make yourself a routine that works in your schedule. Also give yourself time to step away from your work, get a second opinion or another set of eyes for some new direction! Remember that your work exists outside of your own experience with it.
Neeraja: This may be cliché advice, but it's worth repeating: if you believe in yourself and your project, hold on to that. Ignore all the naysayers, all the people who put you down because they don't quite see it. Soon enough, when you prove yourself and your vision, they'll change their minds. (But even if they don't, it doesn't matter. Like water off a duck's back, move on — you have your story to tend to!) However, make sure to welcome constructive criticism because it's always good to get a second opinion on your work. If you're struggling, remember why you started. Remember Abdul Kalam's wise words: "If four things are followed – having a great aim, acquiring knowledge, hard work, and perseverance – then anything can be achieved." Remember to look up your favorite memes once in a while as a reminder to laugh and not stress out too much…we all get there in the end.
Elena: Set a clear timetable when you work on your project and when you take time off. When you focus your time on doing something you enjoy, it can get hard to switch off, especially when working from home like we did.
Marina: Keep working. Put as much in your project as you can, once it's done it will all be worth it. It's such an amazing feeling, seeing your finished short. And also, don't let corona keep you from finding joy in your work. We as a group would for example organize little online game parties–we would play mini games online, chat and drink a beer together, just to keep in touch and keep motivated.
Kai: Divide the different disciplines (art direction, rigging, animation, etc.) in the group so that everyone takes the lead in one discipline. This way, your group won't lose much time on even the smallest decision.
Raphael: Make sure to discuss ideas and approaches with colleagues. Especially when you feel a bit stuck. That way you get new perspectives. We did that a lot in our group and it was always really interesting and helpful.
WIA wishes these talented young filmmakers all the best in their careers, and hopes that by sharing their experience here, up and coming animation students will learn from their creative journeys and be inspired to hold the course on their own artistic paths.