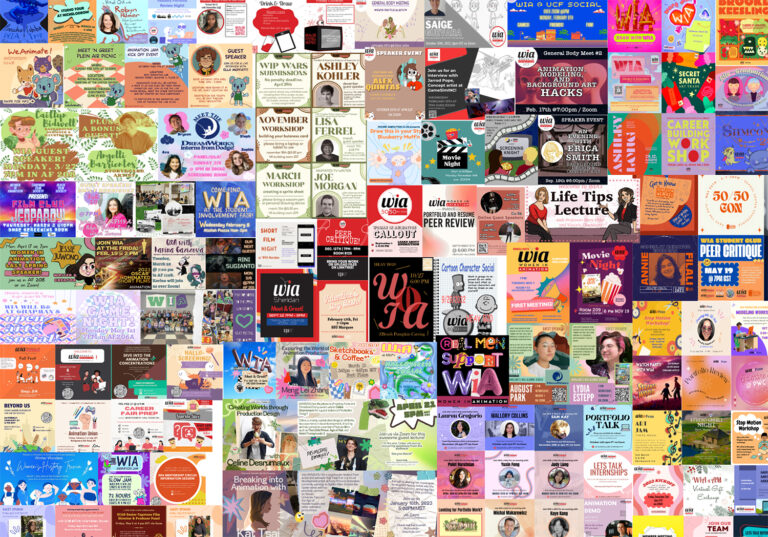 WIA recognizes the importance for animation, VFX, and gaming students to build meaningful connections with each other as they work to enter the industry. To that end, WIA Student Collectives are school-specific groups (virtual and/or in-person) that help their members:
Connect to people who share the same passion for animation, VFX, and/or gaming
Develop leadership skills
Build and/or expand a professional industry network
Stay inspired
NOTE:  WIA Student Collectives must be approved by WIA Global and approval must be renewed on an annual basis.
September 14, 2023
General orientation for students who are interested in starting a new WIA Student Collective or renewing one
October 6, 2023
Applications due
October 25, 2023
Student Collective Leads Meet-And-Greet
February
Mid-year report due
May
End-of-year report due and end-of-year celebration
Dates are subject to change; events may be added or removed as needed.
Why Form A Student Collective?
As animation continues to reach audiences of diverse age, gender, ethnicity, abilities and culture, so does the need to ensure that animation content represents the world as it should be — a world where people of diverse genders are meaningfully represented, both behind the scenes and on the screen, to move culture forward. You can help make this vision a reality by stepping up as a leader to grow and empower like-minded members at your school. Leading a WIA community can be a rewarding experience in a variety of ways, including:
Giving back to the community you love
Empower women (cis and trans) and nonbinary students who want to get into the industry
Building your leadership skills
Growing your professional network
Commitment to one full school year of leadership by Collective leaders


NOTE: Each Student Collective should have at least two co-leads. Responsibilities can be split up, but Collectives with only one identified leader are less likely to be approved.

Minimum of at least 3 events per year (virtual or in-person)
Maintain consistent member outreach via rand social media and a newsletter (can be as simple as an email).
Attend the annual All Student Collectives meeting
Submit a simple, brief mid-year report and end-of-year report
The Student Collectives listed below are still required to renew their Collective annually to be considered active. 
Contact WIA if you are unsure of your Collective's Status.