WOMEN IN ANIMATION EDUCATION
A successful pathway into the animation industry begins with education, both students as well as educators. Women in Animation can only achieve the goal of 50/50 by 2025 in informing new talent how they can begin to integrate their career path far before graduation. By joining WIA's Student Membership, a student member will gain access to industry contacts, information, and standards in their schools. Students will also have exposure to mentorship opportunities, studio tours, and live lectures given by industry professionals. WIA is determined to work with educators to demystify the pathway from the classroom to the industry by sharing resources and brainstorming what is best for your students.
WIA STUDENT CLUB
The Women in Animation (WIA) Student Club Program is dedicated to working with a group of student members to establish an official WIA student club at a university or school; both online and in-person. The WIA Student Club proves opportunities to build an animation community within the school, to develop leadership skills, expand the professional network, attend exclusive events, and find your allies. The WIA student club must be recognized by the university/school and approved by the WIA Board and it is renewed on an annual basis.
---
SCHOLARSHIPS
WIA Scholarship is an annual award committed to furthering deserving animation students who demonstrate artist talent, a passion for animation, a financial need, and a promising future in the field of animation.
In addition to the WIA's Scholarship Program, WIA has a growing list of external scholarship opportunities so please check out the WIA Scholarship Resources page.
---
RESOURCES
Career Paths
This is a series of brief essays about individual pathways taken by an assortment of women to their careers in animation. Read these inspiring and informative stories for a look at what it took others to reach their goals for encouragement to find your own personal path into the animation industry.
---
CLASS OF 2020 SHOWCASE
Women In Animation Class of 2020 Showcase is a special online program celebrating the thesis/final films created by students who have graduated in 2020 at both undergraduate and graduate levels. The Class of 2020 has been heavily affected by the current COVID-19 pandemic: their traditional year-end festivities including their in-person commencement ceremonies, screening celebrations, and career fairs have all been canceled.
WIA aims to virtually recreate the opportunities that are missing for the talent and for the industry during this time. The Women In Animation Class of 2020 Showcase provides a platform for graduation films to be seen by animation powerhouses and recruiters, hiring managers, agents and studio executives, making important connections for promising new talent.
To find out more information, please check out the WIA Class of 2020 Showcase page.
WIA Education is determined to work with educators at different schools and universities to see how we can collaborate on demystifying the career path from the classroom to the industry. If you have any feedback, suggestions, and questions, please don't hesitate to reach out to us at [email protected].
Over 100+ events were hosted by WIA Student Clubs for their fellow students as well as other WIA Student Clubs!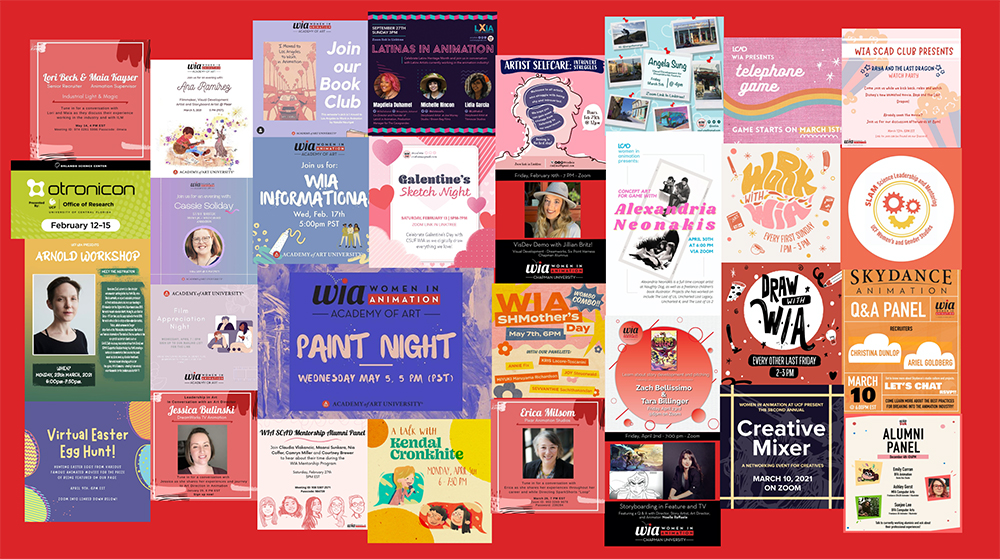 If you are interested in starting your own WIA student club at your school, WIA Education would like to invite you to check out the detailed information here for all the important steps you need to take.